| ROUTE | ΝΑΜΕ | DIFFICULTY LEVEL | HEIGHT OF ROUTE |  QUICKDRAWS   |  REVIEW  | CREATORS |
| --- | --- | --- | --- | --- | --- | --- |
| 7.1 | MI KITAXIS KATO |   6a+ |  15m | 10 |   | TITOPOULOS KLAOUDATOU |
| 7.2 |  VRAHOSIKO |  6b | 15m |  10 | | TITOPOULOS KLAOUDATOU |
(Review by site administrator varies from 1 to 6 stars)
Information: 
Quite a tiny sector, is located at the same big rock where is sector 6 is, but to the right side – when looking to the rock. It could belong in the same sector since there are only two routes.
The area in front of the sector is not so comfortable due to the slope of the ground which makes a bit difficult to belay, and settle equipment on the ground (backpacks etc). More over during spring time, due to dense vegetation belaying becomes harder.  However, the view from the rock to the left is amazing since the horizon is open in front until the sea and the nearby islands.     
Weather:
Having direction to the south, make this part of the rock pretty shielded from North winds but with plenty of sunshine. During summer time climbing to this sector can be hard since the sun is over it from the morning. It can be considered as a sector suitable for winter.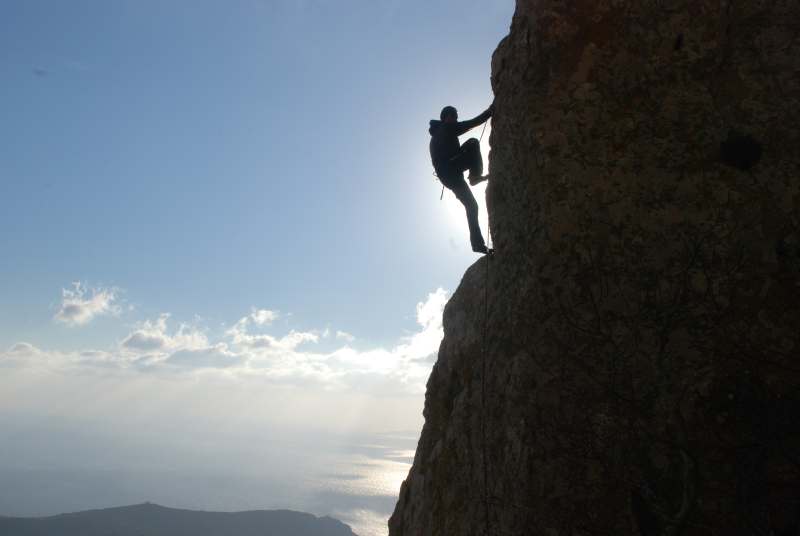 Prelorentzos Manthos at "Vrahosiko", (6b)