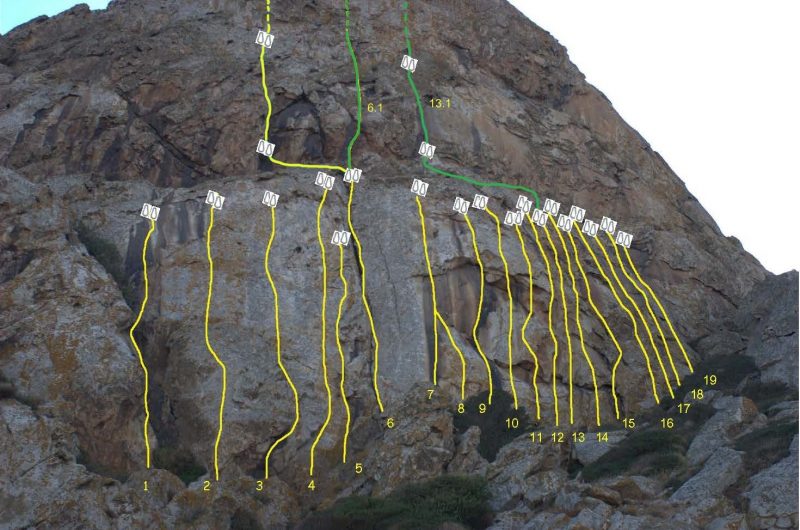 |  ROUTE  | NAME | DIFFICULTY LEVEL | HEIGHT OF ROUTE |  QUICKDRAWS  |  REVIEW  | CREATORS |
| --- | --- | --- | --- | --- | --- | --- |
| 3.1 | TAMA | 6b+ | 22m |  11 | | MICHAELIDES THEODOROPOULOS TORELLI |
| 3.2 | AERIKO | 6a+ | 28m |  13 |   | MICHAELIDES THEODOROPOULOS TORELLI |
| 3.3 | GONIPETIS | 6c | 29m |  13 | | MICHAELIDES THEODOROPOULOS TORELLI |
| 3.4 | KALIPIGOS | 6c+ | 30m |   |   | MICHAELIDES THEODOROPOULOS TORELLI |
| 3.5 | EROTIKI EXOMOLOGISI | 5c | 21m |  10 |   | MICHAELIDES THEODOROPOULOS TORELLI |
| 3.6 | ICHTHIS | 6a, 5c, 5c, 5c | 4 ropes 130m |   |   | XATZIS KOYTROYMPIS |
| 3.6.1 | AFESI AMARTION | 6a, 6a 6a, 6a | 4 ropes 120m |   |   | LAGANAKOS    PAPOUS           SIMOS        SOTIRAKIS THEODORIDHS  VARSOS |
| 3.7 | ANADISI | 7a+ | 23m |   |   | KOUTSOUKIS MICHAELIDES  TORELLI THEODOROPOULOS(?) |
| 3.8 | ANADISI (variation) | 7a+ | 22m |   |   | KOUTSOUKIS MICHAELIDES  TORELLI THEODOROPOULOS(?) |
| 3.9 | MELANAS ZOMOS | 6a+ | 37m |   |   | KOUTSOUKIS MICHAELIDES  TORELLI THEODOROPOULOS(?) |
| 3.10 | XENO SOMA | 7b+ | 21m |   |   | KOUTSOUKIS MICHAELIDES  TORELLI THEODOROPOULOS(?) |
| 3.11 | LOTZA | 6b | 21m |  7 |   | KOUTSOUKIS MICHAELIDES  TORELLI THEODOROPOULOS(?) |
| 3.12 | SAHARA | 6b+ | 21m | 8 | | KOUTSOUKIS MICHAELIDES  TORELLI THEODOROPOULOS(?) |
| 3.13 | POURNARI | 6a+ | 18m | 7 | | MITSIOS TITOPOULOS |
| 3.13.1 |  FROUDI ANAKLISI (2018) | 6a+, 5c, 5c |  28, 28, 30 |  11, 7, 11 |   | KOULIS   MARAVELIAS  PRELORENTZOS |
| 3.14 | KREMASTO MENIR | 5c | 23m | 10 | | MITSIOS TITOPOULOS |
| 3.15 | EKTORAS | 5b | 20m | 10 |   | MITSIOS TITOPOULOS |
| 3.16 | MARINA | 5b | 17m | 9 | | MITSIOS TITOPOULOS |
| 3.17 | MANITARI | 5b | 17m | 8 | | MITSIOS TITOPOULOS |
| 3.18 | ELLI | 5b+ | 18m | 9 | | MITSIOS TITOPOULOS |
| 3.19 | TO MATI | 6a | 16m | 8 | | MITSIOS TITOPOULOS |
(Review by site administrators varies from 1 to 6 stars)
Information :
Sector 3 is one of the most beautiful sectors of the field of Exomvourgo because of the high style that the most routes have. "EROTIKI EXOMOLOGISI" and "KREMASTO MENIR" supposed to be the most beautiful from the easy routes not only of this sector but from the whole field of Exomvourgo which are ideal for beginners because of its difficult level (5c) and its height.
Sector 3 has many routes (19 in total) with variety level which starts from 5b and reach to 7b+. It is a sector for all climbers with beautifull movements and nice view. The only disadvantage is the slant of the ground and the dense vegetation which make you feel a little uncomfortable.
At the end of the sector rocks make a kind of cave which is ideal for relax as it is leeward and protect from possible rain.
In this sector there is also the unique 4 rope route which is 140m and it almost ends at the top of Exomvourgo near the marble cross. The difficulty of the route is 6a which is accessible for the most to try it.
Weather :
This sector has west orientation. Because of the rocks at the right side is completely protective from south winds. Also it is a little bit protective from the north winds after the route 10. On summer it is in shade from early morning until 12:30. The best season for climbing is autumn and spring.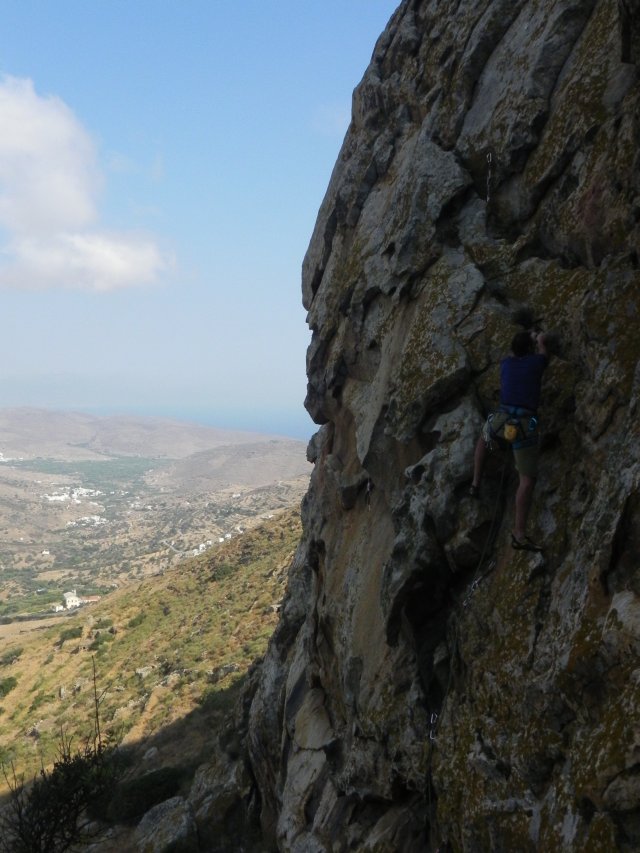 Nikos Anagnsotopoulos at "Kremasto Menir" 5c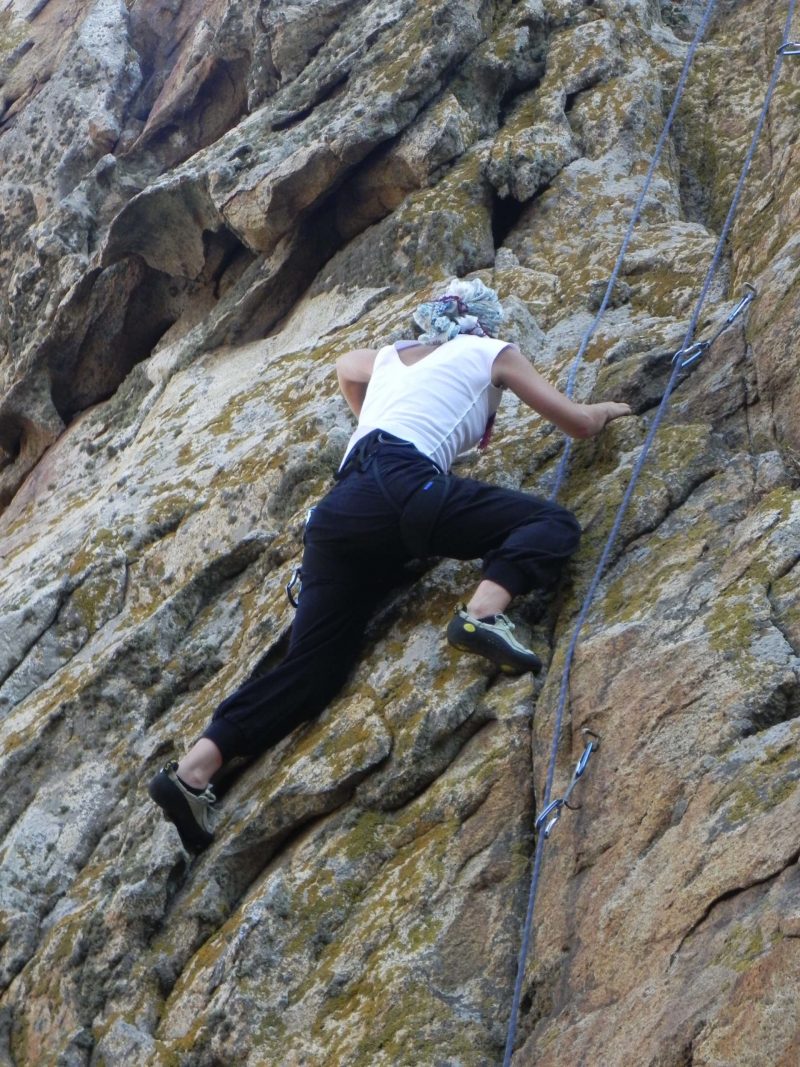 Roza Vidali climbing at "Ektora" 5b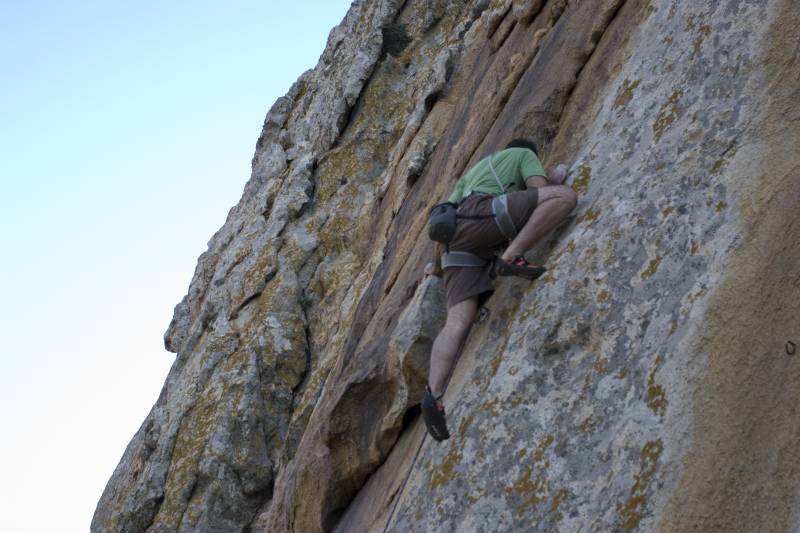 Paulos Asteriou at "Manitari" 5b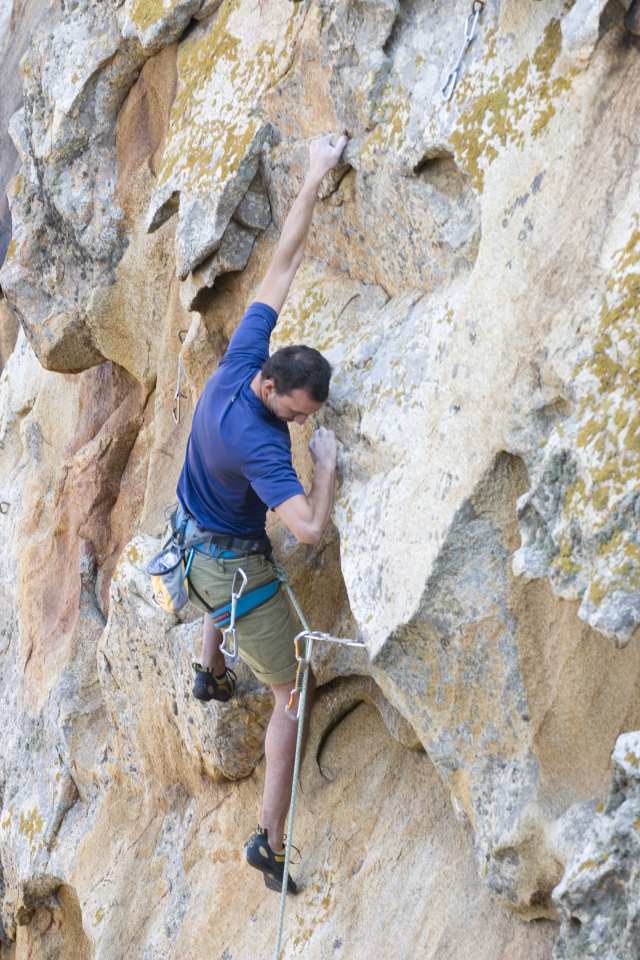 Nikos Anagnostopoulos at "Sahara" 6b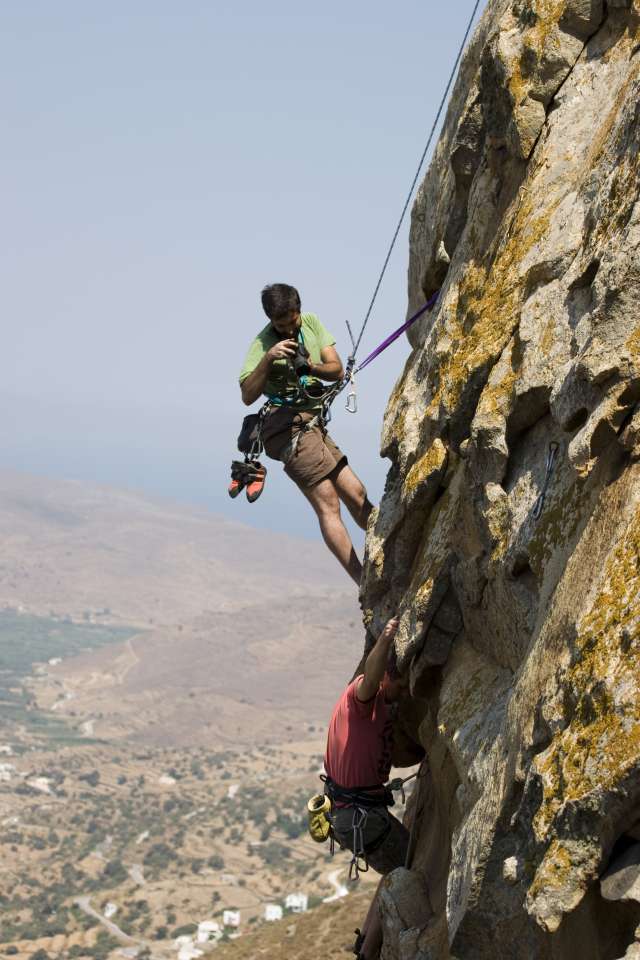 Manthos Prelorentzos climbing at "Lotza" 6b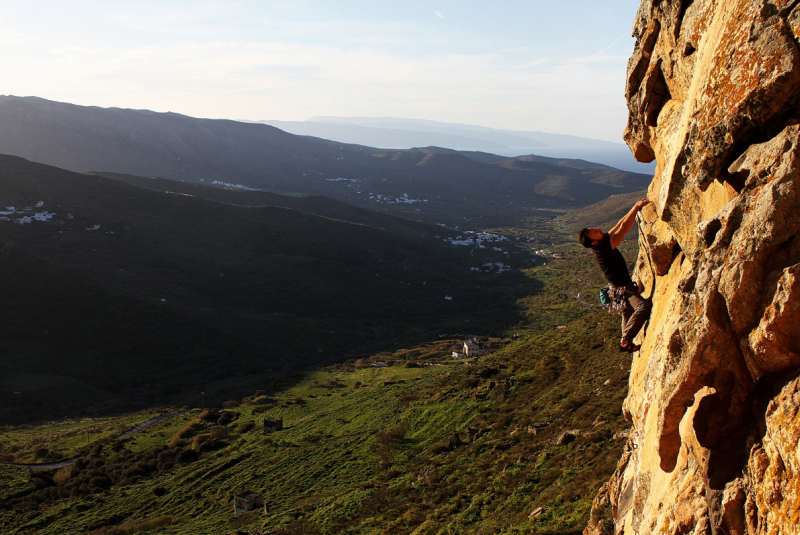 Andreas Markou at "Anadisi" 7a+