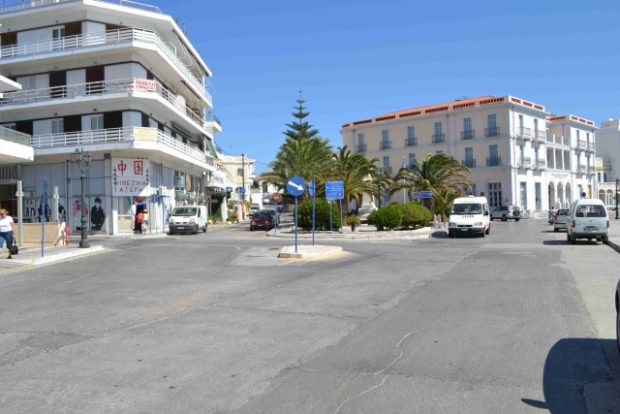 After arriving at the port of Tinos, you go right for about 300m, along the coast, and follow the sign which is before a little square, directing you on left to the villages
About 100m you go left again at a little path. There is a sign of a gas stop EKO.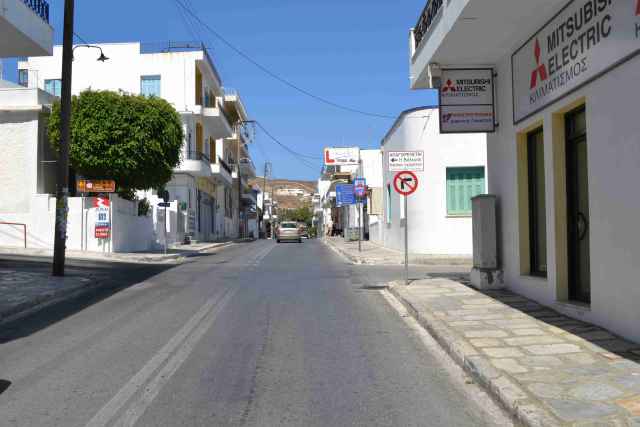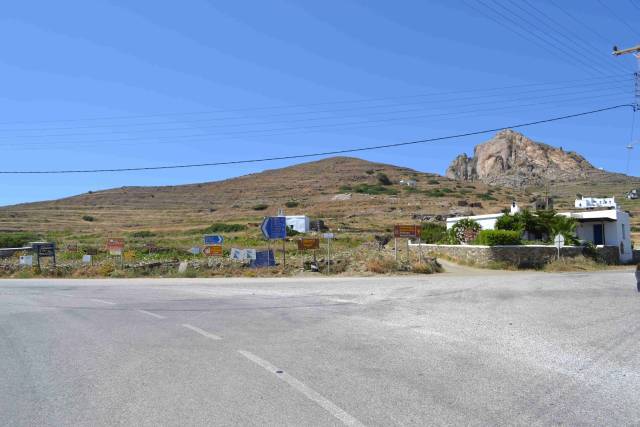 Leaving the port (Chora), you move on the main uphill road for about 4km. On that main uphill road, there are 2 gas stops, close to each other, where you can refuel your vehicle. After passing the village Tripotamos, on your right-hand side as you go uphill, the road ends at a big intersection with many signs giving you instructions to turn left, right or head straight into a small dirt road.
At this point you have 2 options:
Access to sectors 4-5-6-7-8-9
In order to arrive to sectors 6-7-8-9, you follow the small dirt road straight ahead at the intersection, leading you to Exomvourgo. Even though this road is a bit steep, it can be crossed by a normal car without great difficulty. At the end of the dirt road you come across a small church with a yard, where you can park your vehicle (at this spot you can camp overnight). Then, you follow the path that you will find at the right side of the church (it's an ancient cobbled road) for about 5 minutes, until you come across a sign that directs you to the climbing field. On the sign, you turn left and it will take you another 5 minutes to get there.
Access to sectors 1-2-3-4-5
In order to arrive to sectors 1-2-3-4-5, you turn left at the intersection and follow the road for about 2,5 km. After the road starts going downhill and you can see the rock of Exomvourgo far ahead, you turn right towards the village Xinara (be careful not to miss the turn as you go downhill, for the sign to Xinara is only visible where you have to turn!)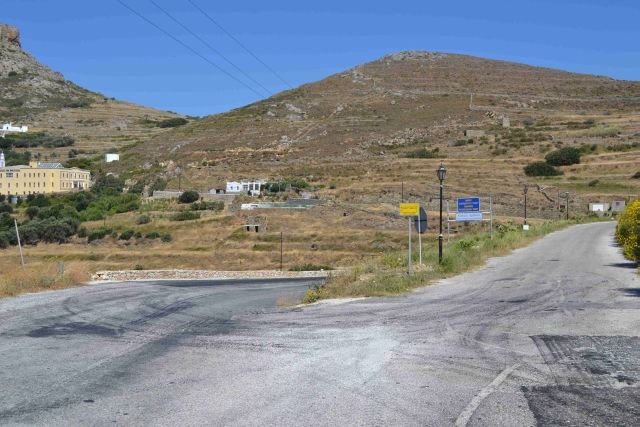 Since you are in the village, you can park the car in front of the old town hall. There are enough parking spots there. That's where you will find a sign directing you to the beginning of a dirt road towards the hill, where you move for 10 minutes, approximately, until you get to the little church. You can get there by car, but there are only 2-3 parking spots. At the church, you head left (there is a sign) and after walking on the path for about 5 minutes, you will get to sector 3.
Note:
All sectors are interconnected by a path, so you can move around from sector 1 to sector 9. At some spots, where access is more difficult, iron steps have been placed on the rock.