| ROUTE | NAME | DIFFICULTY LEVEL | HEIGHT OF ROUTE | QUICKDRAWS  |  REVIEWS | CREATORS |
| --- | --- | --- | --- | --- | --- | --- |
| 8.1 | KAMPOS | 6a | 30m | 16 | | TITOPOULOS KLAOUDATOU |
| 8.2 | KOMI | 5c | 30m | 17 | | TITOPOULOS KLAOUDATOU |
| 8.3 | KROKOS | 5c | 26m | 14 | | TITOPOULOS KLAOUDATOU |
| 8.4 |  LOUTRA | 5c | 29m | 12 |   | TITOPOULOS KLAOUDATOU |
| 8.5 | KIVOTOS TOY NOE (2017) |  6a+ | 26m | 10 |   | PRELORENTZOS KOYLIS |
(Review by site administrators varies from 1 to 6 stars)
Information :
It is quite a hidden sector. It can be found in the main part of the rock where the sector 5 is, but higher (routes here start roughly at the height of the first anchors of sector 5). To reach someone the sector must start from sector 7 and go up to the hill with a direction to the left.  
Since the sector is high and all the routes have plenty of height, the anchors are the highest in altitude (speaking for the one pitch routes) in the whole area.
The most part of the four routes is slab with small handholds, which gives an interesting balancing sense on climbing.
Another particular feature of the area is that the enormous parts of rock of sectors 6, 7 and 9, can be seen from above in both directions creating an amazing view, resembling small.. Meteora! (Famous rocks for climbers in central Greece).
Weather :
Since there are great parts of rock in front of this sector, it is quite shielded from the wind. Generally it is recommended when strong winds are blowing. It has shadow during summer time, but after the midday due to the rocks which has in the front. Spring, summer and autumn are considered more suitable seasons for climbing.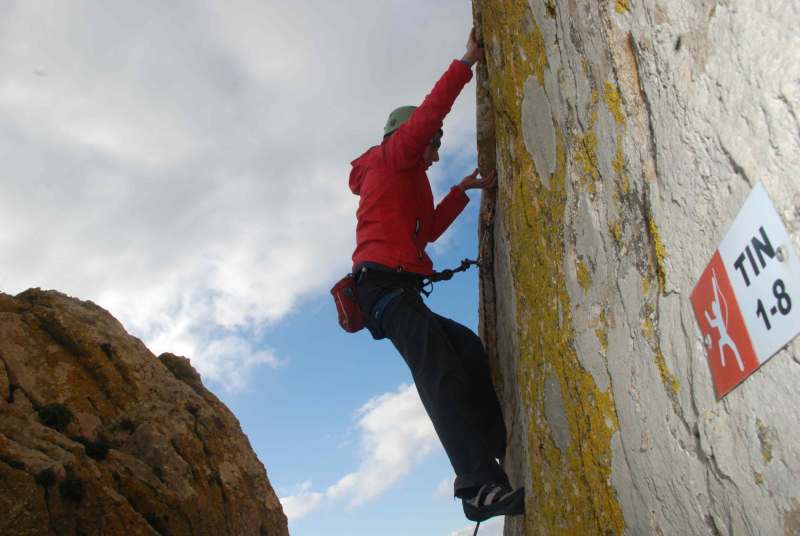 Rania Ntovinou at the start of the route "Komi" 5c​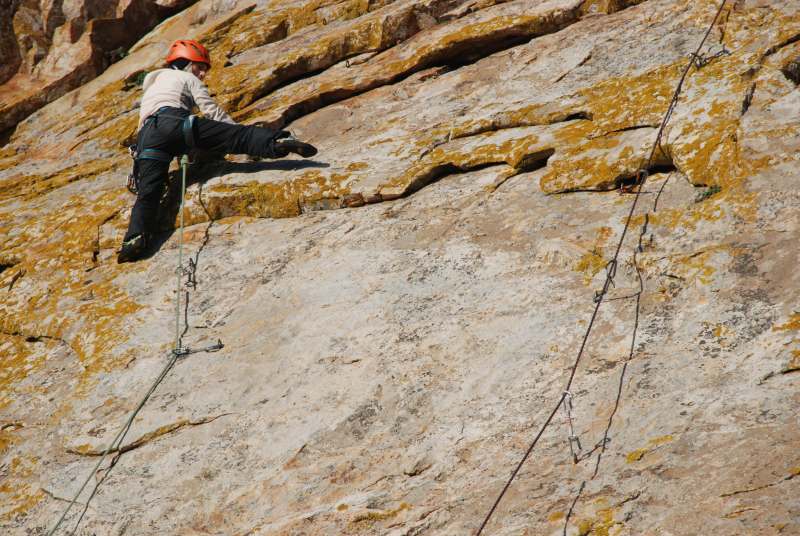 Marilena Sdrin at "Kampos" 6a​