| ROUTE |   NAME | DIFFICULTY LEVEL | HEIGHT OF ROUTE |  QUICKDRAWS |  REVIEWS |  CREATORS |
| --- | --- | --- | --- | --- | --- | --- |
| 1.1 | EVLOGIMENI | 6a+ | 25m | 10 | **** |  MICHAELIDES THEODOROPOULOS TORELLI |
| 1.2 | MELOKARIDO | 5b | 27m | 12 |  **** | MICHAELIDES THEODOROPOULOS TORELLI |
| 1.3 | TON APOSTATON | 5a | 26m |  13 | *** | MICHAELIDES THEODOROPOULOS TORELLI |
| 1.4 | KAMINADOSXISMI | 5a | 23m | 9 | ****** | MICHAELIDES THEODOROPOULOS TORELLI |
| 1.5 | OPHIOUSSA | 6a | 20m |  12 | **** | MICHAELIDES THEODOROPOULOS TORELLI |
| 1.6 | YDROUSSA | 5c | 18m |  8 | **** | MICHAELIDES THEODOROPOULOS TORELLI |
| 1.7 | AMFITRITI | 5a | 20m |  8 | *** | MICHAELIDES THEODOROPOULOS TORELLI |
(Review by site administrators varies from 1 to 6 stars)
Information :
The easiest access for sector 1 is to go from village "Ksinara".
It's an easy sector as the most routes have difficulty level about 5a, so it is ideal for begginers who want to combine high meter and easy routes. Rock has possitive slope with many grabs.
Weather :
"Psigio" means "fridge" and it is exactly what the name want to say! This sector has north direction and it is completely exposed to north winds. Also it is in shade during the day.It is not impossible to climb there when it blows north wind or during winter. Generally it is better to climb there on sunny days and no winds. So the best season for sector 1 is only summer.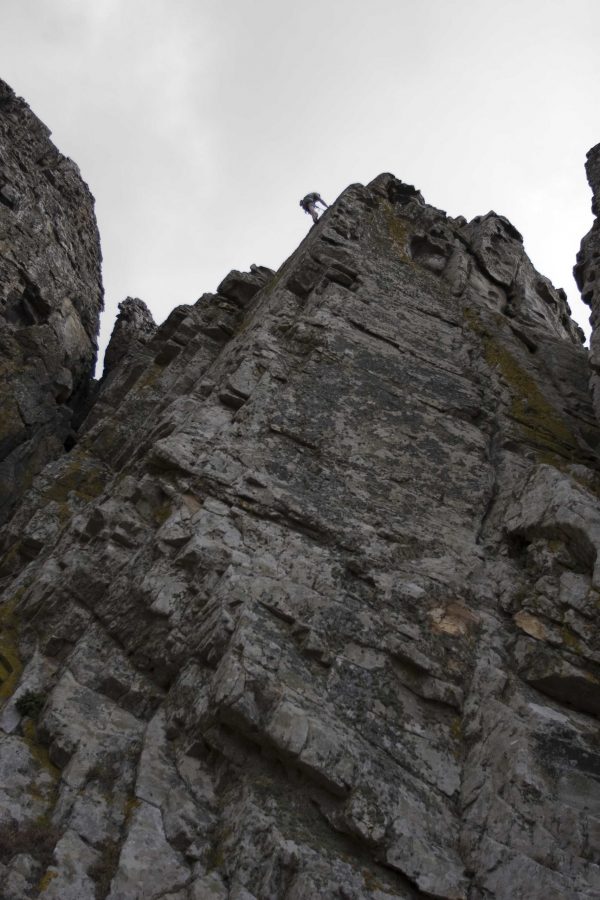 Ο Μάνθος Πρελορέντζος στην "Ευλογημένη" 6a+